Welcome to Troutman
Advice is a click away
What Would You Like To Know?
Troutman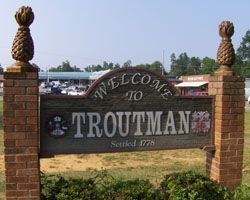 Tucked among the rolling hills and farmland of Iredell County, Troutman is a close-knit community that offers a peaceful alternative to the hustle and bustle of Mooresville and Statesville. Despite its rapid growth in population and industry due to its location, Troutman has maintained a strong sense of tradition and history.
This friendly town has a charming downtown district that is perfect for window shopping on a lazy afternoon or a stroll after dinner. Many homes and gardens can be found right off Main Street, which provides the community with its spacious, scenic atmosphere. Nearby Lake Norman and Lake Norman State Park also provide hours of entertainment by offering plenty of opportunities for boating, fishing, skiing, swimming, hiking and biking.
Troutman's convenient location between Statesville and Mooresville off Interstate 77 allows residents to easily travel to other nearby cities such as Charlotte, Winston-Salem and Greensboro. These factors led Site Selection magazine, the official publication of the International Development Research Council, picked the Statesville-Mooresville region as the Number One "Micropolitan Area" in America for 2004, 2005 and 2006.
Troutman Homes for Sale
Looking for Troutman homes for sale? Search our local listings database for access to listings in Troutman and the surrounding area. Whether you want to buy or sell Troutman real estate, you can browse through properties or find a wide variety of real estate resources available on this website.
Troutman Real Estate Agent
As your Troutman real estate agent, Tarheel Realty II can assist you with all of your home buying and selling needs. As your Troutman real estate expert, Tarheel Realty II can provide you with access to the local listings database and offer their experience and knowledge to make the home buying or selling process easier for you and your family. Contact Tarheel Realty II today to get your home search started!
Property Listings
Property listings for Troutman, North Carolina.
Market Analysis
Market analysis data for Troutman, North Carolina.
Real Estate Market
Connector.

Median sale price last 12 mo.

Connector.

Avg. property tax

Connector.

Sale price lowest 12 mo.

Connector.

Sale price highest 12 mo.
Photo Gallery
View our gallery below for Troutman, North Carolina.
Area and Demographic Statistics
This part graphically explains area and demographics stats for Troutman, North Carolina.
Number of households
3,721
Household Avg. Income
67,175
Avg. year dwelling build
1988
| | |
| --- | --- |
| Population | 2,955 |
| Population Density | 318 |
| Median Age | 39 |
| | |
| --- | --- |
| Average value of the dwelling in which household lives | $212,715 |
| Avg. years a household has lived in dwelling. | 16 years |
Show me the National Index Comparison
Schools
This part contains all educational institutions in Troutman, North Carolina.
The Best in
Troutman
Browse through the top rated businesses in the most popular categories Troutman, North Carolina has to offer.
Dine
Drink
Shop
Coffee
Workout
Groom
Pet Care